Fond du Lac, Wisconsin – On Saturday morning, a K9 with the Fond Du Lac County Sheriff's Office was seriously injured after being shot while on a disturbance call. As reported by WFRV News, shortly before 6 a.m., deputies responded to a disturbance involving weapons on the 500 block of Drury Place.
In a release, the sheriff's office recounted the incident:
Upon arrival, law enforcement encountered a male subject inside a vehicle. Shortly after the vehicle was located, gunfire was exchanged between a sheriff's deputy and the subject. The subject sustained injuries and first aid was rendered. The subject was pronounced deceased at the scene.
K9 Iro was shot in the crossfire and sustained serious injuries.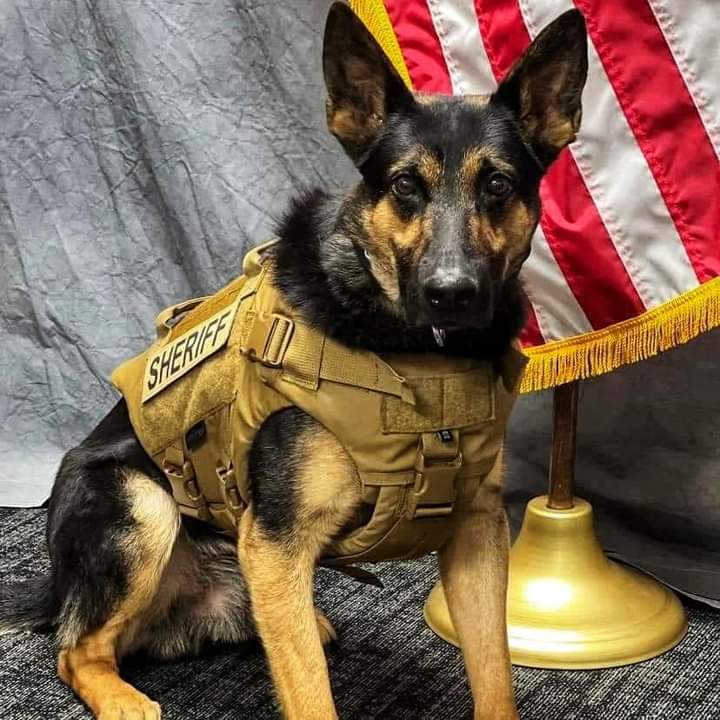 On Sunday, the sheriff's office provided an update about their injured K9, writing:
Tonight I can share that our K9 remains in serious but stable condition after undergoing a lengthy surgery this afternoon. He is by no means out of the woods, but he's a young, healthy, strong dog and his team of specialists are doing everything they can to help him. He was awake and alert enough this morning to recognize his deputy handler, and he even got to spend a little time gnawing on his favorite toy (a tennis ball) before surgery.
Acknowledging a special dog who donated blood to help save Iro's life:
The other hero of the day today is Dwyer, a yellow lab owned by one of the hospital veterinary technicians. Dwyer's blood type was a match to our deputy K9, and the vet tech and Dwyer wanted to donate his blood to help our K9 through this. The transfusion worked, and blood counts rose to levels needed to undergo this important surgery.
Donations are being accepted for K9 Iro's care:
The Fond du Lac County Sheriff's Office K9 program is 100% donor-funded. If you would like to donate to support these teams, you can write a check to "FDL Sheriff K9 Program" and mail to:
FDL Sheriff K9 Program
PO Box 1273
Fond du Lac, WI 54936-1273
Additionally, if you prefer to donate in person with a check or by credit card, donations can be processed at our lobby window at 180 South Macy Street, Monday through Friday, 8 am-4 p.m., or over the phone by calling 920-929-3372.
10/18/2023: Read the latest update about K9 Iro here.
More News: Badly Neglected Dog Denied Love And Care With Former Family, And Now He Is Scheduled To Be Put Down
---
Help Put Animal Abusers Away! Sign A Petition To Fight For Animal Justice.