Wantagh, NY – In June 2019, a dog was abandoned alongside a road; he was found sitting next to a bag of dog food, patiently waiting for his family to come back to take him home. The dog, since named Brisket, did not get to go home – instead, he was taken to the Town of Hempstead animal shelter where he has remained.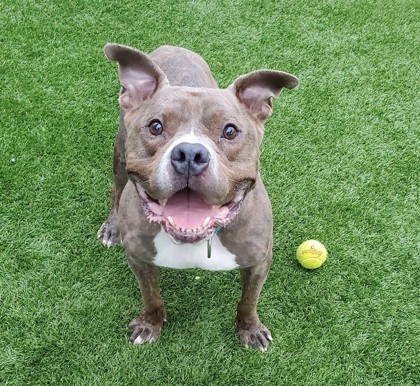 Brisket's adoption profile provides a glimpse at his demeanor:
Brisket is recommended to go home with adults only, and a quiet household due to stranger reactivity. Brisket does well with respectful dogs and is quite playful once he bonds to them. Brisket's friends at the shelter describe him as affectionate, treat motivated and loves belly rubs.
Brisket has worked with a trainer to help improve his leash skills, and to address his resource guarding issues. The shelter wants to see Brisket placed in a home with people who are dog-savvy and able to handle his needs.
If you are interested in learning more, please contact the shelter's placement team at The Town of Hempstead Animal Shelter: E: Rescue@hempsteadny.gov
Note: All inquiries about this dog must be made to the animal shelter. Animal Victory is NOT the point of contact and has no affiliation with this dog, or this shelter. Thank you.
Continue reading: Letter From CEO, 'We Cannot Humanely Care For This Many Animals' As Shelter Reaches Pivotal Breaking Point
---
Help Put Animal Abusers Away! Sign A Petition To Fight For Animal Justice.