Philadelphia, PA – More than a year ago, a Rottweiler was rescued by an Animal Law Enforcement team and brought to the Pennsylvania SPCA. At the time of his rescue, multiple people said that they wanted to adopt him…but that never happened.
The now senior dog, Pierogi, is still waiting for someone to choose HIM to be their companion.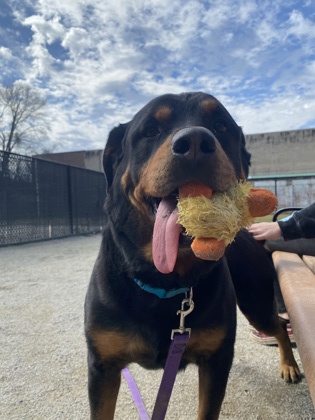 On Sunday, the shelter said:
So many days have gone by, and still, Pierogi waits.
He has been waiting for his family for over a year.
This senior rottie was rescued by our Animal Law Enforcement team last July. His situation had been plastered all over social media, and so many people said they would adopt him after his rescue.
Sharing the heartbreaking reality:
They never came. The promises were unfulfilled.
Fortunately, Pierogi is in good hands until the right family is found. The animal welfare agency said, "But, we keep our promises, and we have been loving him every day of his tenure here. And working with him on learning about the world. He is loved. We are his family until his family comes."
Please help Pierogi by sharing his story – someone out there is waiting for him to be their friend.
Find the adoptable dogs on the shelter's website here.
Animal ID 50703270
Species Dog
Breed Rottweiler/Mix
Age 7 years 1 month 30 days
Gender Male
Size Large
Color Black/Brown
Spayed/Neutered
Declawed No
Housetrained Unknown
Site Pennsylvania SPCA-Philadelphia
Shelter address: 350 E Erie Ave, Philadelphia, PA, United States, Pennsylvania
Shelter phone: (215) 426-6300
Shelter email: gkocher@pspca.org