Against all odds, Buddy the cat has survived a brutal attack by two pit bulls who were encouraged to tear him apart. Buddy was left fighting for his life after the March 22 incident, but with round-the-clock care, and support from thousands of people across the world, he is proving himself to be a mighty survivor.
When Buddy was first taken under the wing of the Pennsylvania SPCA, he was in critical condition and it was unknown if he would pull through.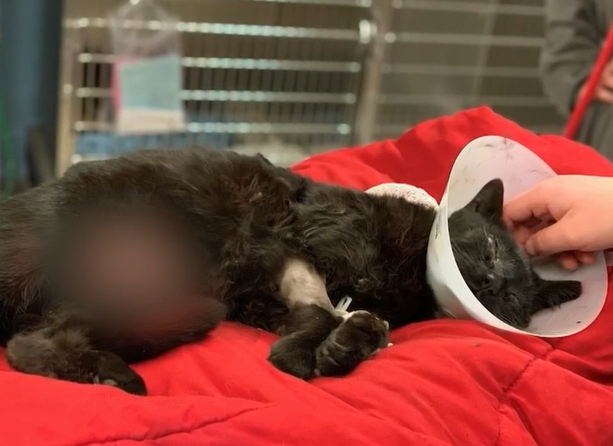 But time, patience, and excellent veterinary care have advanced Buddy's status from critical to stable.
Generous donors from around the world have contributed to Buddy's ongoing care. The animal shelter has thanked Buddy's supporters, writing:
So many people are asking – how can we help Buddy? The outpouring of support has been amazing, and we are all feeling the love (especially Buddy).
The animal welfare agency reminded everyone that there are many cats in need of adoption at the shelter, and adopting a homeless feline would be an excellent way to honor Buddy. People can also purchase items from the shelter's wishlist (click here) or sign up for an event that benefits the shelter animals. The shelter added:
Most of all, send good thoughts to Buddy and all of his buddies currently recovering in our hospital.
Two juveniles, ages 12 and 17, have been arrested in conjunction with the attack on Buddy. Because of their ages, the boys' names have not been released. The dogs who attacked Buddy are currently in the custody of the Pennsylvania SPCA. Their owner does not want to relinquish ownership.
Please click here if you have not read and signed the petition created on Buddy's behalf.